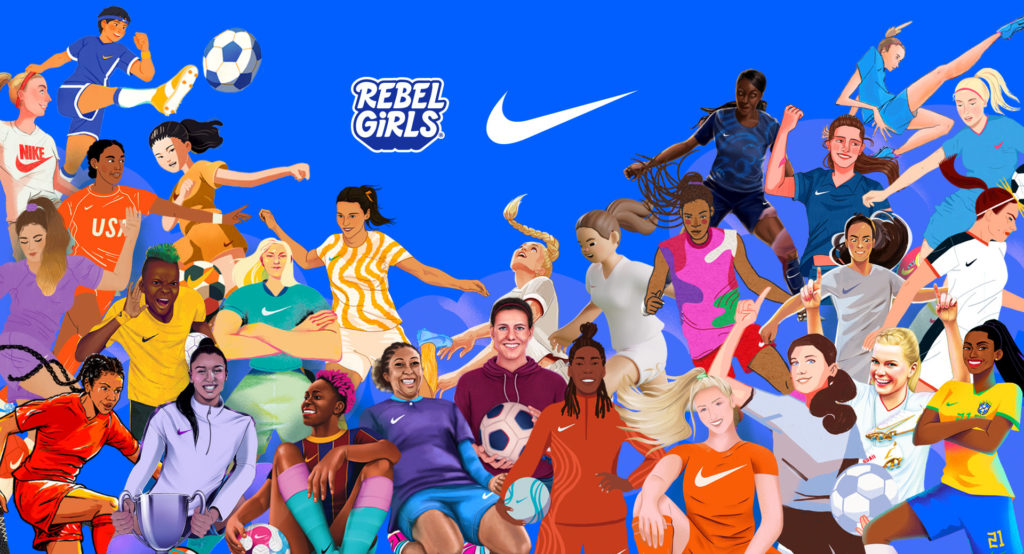 Rebel Girls and Nike have partnered to inspire confidence in girls and celebrate the joy of sport through women footballers. Enjoy all new audio stories, plus Get To Know You episodes hosted by Nandi Bushell.
---
Kadeisha Buchanan: Finding her Path
Kadeisha Buchanan is a world-class football defender who is a force of calm and confidence on the pitch. She continues to learn and grow by always giving one hundred percent.
Get to Know Kadeisha Buchanan
Nandi Bushell teams up with Nike Kids and Rebel Girls to spark the joy of sport! Get to know how world-class defender in women's soccer Kadeisha Buchanan found her own path, and what it's like to be one of eleven siblings!
Magdalena Eriksson: Celebrating Common Goals
Magda Eriksson believes that football and human rights go hand in hand. As one of the best football defenders in Europe, Magda shows her rebel spirit by charging the pitch and speaking out about the need for change.
Get to Know Magdalena Eriksson
Nandi Bushell teams up with Nike Kids and Rebel Girls to talk to one of the best soccer defenders in Europe, Magdalena Eriksson. In addition to her soccer skills, Magda runs a podcast to talk about LGBTQIA+ issues and making positive change.
Klara Bühl: Living in the Moment
Klara Bühl is a very powerful forward and winger for Germany's women's football team. Her energy and enthusiasm for the sport inspire countless footballers, and she's one of the youngest new leaders internationally.
Lea Schüller: Finding Family in Football
Lea Schüller is a world-renowned football player with a joyful heart and a powerful kick. At age 25, she was named Germany's Women's Footballer of the Year, and she's determined to keep that title.
Ella Toone: Dreaming Big and Playing Bigger
Ella Toone is a professional football player who is taking the world by storm. Growing up in the UK, the country where male football is very popular, she continues to break barriers, paving the way for all girls who want to play on the pitch.
Founé Diawara: Creating sisterhood
Founé Diawara believes in the beauty of community, faith, and soccer. When she was barred from playing professionally because she wore a hijab, Founé founded Les Hijabeuses. Today, Founé leads the fight for freedom on and off the pitch.
Ada Hegerberg: Changing the game
Norwegian soccer star Ada Hegerberg is world-famous for her powerful kicks, her joyful spirit, and her gritty determination. Ada has won trophy after trophy, including the first-ever Ballon d'Or awarded to a woman! But what she's most proud of is the way she's changing the soccer world by fighting for gender equality.
Romina Calatayud: Fiercely female
Romina Calatayud was three years old when she realized girls and boys were not treated the same way. So she started Girls United, which gives girls around the world equal access to sports and helps them feel confident on and off the pitch.
Marie-Antoinette Katoto: Focused and fierce
When Marie-Antoinette Katoto is charging down the wing of the soccer field, she can't think too much. She has to trust her heart and her instincts, letting them carry her towards the goal. This is how she's helped her team win tournaments and championships. This is how she's become the top scorer year after year.
Leah Williamson: Giving it her best shot
Leah Williamson was determined to get to the Championships. But when a referee disqualified Leah's penalty kick, her dreams came to a screeching halt. This is how one kick, and the powerful woman behind it, transformed England's national team.
Lucia Matzke: Connecting through dance
Lucia Matzke has been twirling and leaping since she was a little girl. But when she was introduced to krump dancing, her whole world turned upside down. Sharing this daring artform is now her greatest joy and passion, channeling her body and her emotions.
Houda Loukili: A Role Model for All
Houda Loukili is a champion in and out of the boxing ring. As a teen, she won the Dutch Youth Championship in kickboxing while proudly wearing her hijab. She continues to coach and inspire athletes everywhere.
---