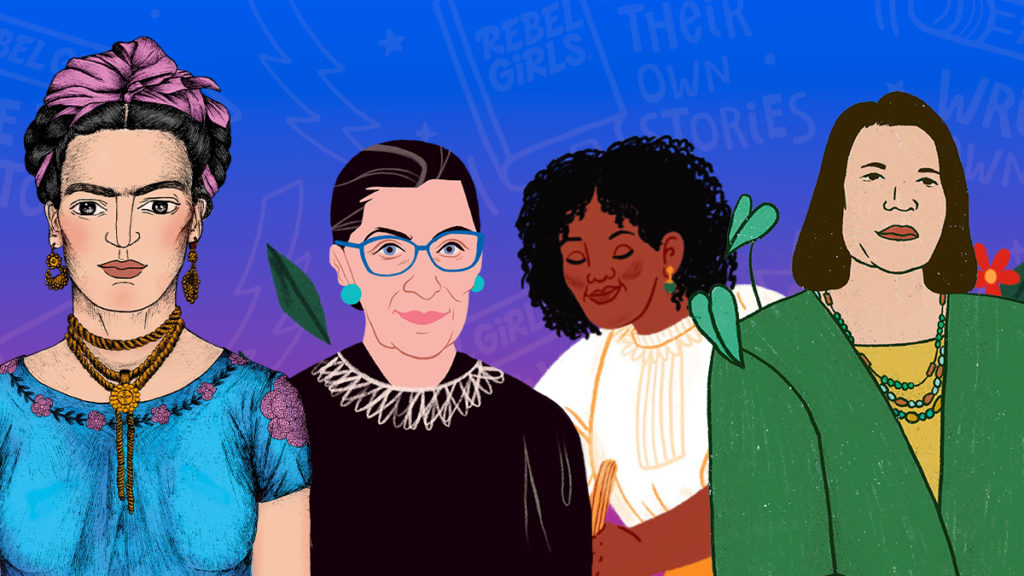 Throughout history, women have been excluded from many careers and opportunities. Even so, trailblazing women have become inspirational leaders, innovators, artists, and adventurers. The following stories highlight just a few successful women, but they offer powerful lessons for today. Each one proves how success comes from determination, imagination, and courage. 
Tech Whiz: Ada Lovelace
Ada, Countess of Lovelace, was born in England in 1815. Growing up, Ada studied science and math, which were very unusual subjects for girls at the time. Ada was amazed by Charles Babbage's design for an Analytical Machine — an idea for a very early, mechanical computer. Looking at the plans, Ada realized that the machine could be made to follow coded instructions. She wrote an algorithm for it. This turned out to be the world's first computer program.
A key takeaway for Rebel Girls: 
Ada Lovelace was ahead of her time. She realized that machines could be used for words, music, and images, as well as numbers. What are some cool technological inventions you can think of that could be useful in the future?    
To learn more about Ada Lovelace, head here. 
Brains for Business: Sarah Breedlove
Sarah Breedlove was a powerful woman and one of the first Black American female millionaires. But Sarah's early life was very difficult. At 20 years old, she was a widow with a young daughter. Sarah worked for years as a laundress and cook. In 1914, she started selling a hair product. Sarah later moved, married again, and became Madam C.J. Walker. She developed her own hair treatment called "Madam Walker's Wonderful Hair Grower." The business boomed. 
A key takeaway for Rebel Girls: 
Sarah lifted others out of poverty, employing and training thousands of Black women and men. She helped educate Black Americans and fund charities. What is one charity you are passionate about supporting? Discuss some ways you can give back. 
To learn more about Madam C.J. Walker, head here. 
Hero of the Skies: Amelia Earhart
Flying thrilled Amelia Earhart. By 1923, the 26-year-old had her pilot's license and her own plane. Just seven years later, Amelia was a successful, well-known aviator. That year, she broke the first of many world records by setting a new flying-speed record. In 1932, she became the first woman to fly solo across the Atlantic Ocean. More records followed. On June 1, 1937, Amelia and her navigator, Fred Noonan, left Florida for a round-the-world flight. On July 2, Amelia took off from New Guinea, in southeast Asia. Amelia and Fred were never seen again. 
To learn more about Amelia Earhart, head here. 
A key takeaway for Rebel Girls:
Amelia followed her dream to become a pilot, even though it was not an easy choice for women at the time. What is your dream job, and what can you do now to help you succeed?
Modernist Master: Georgia O'Keefe
Many artists, especially women, do not become famous or successful during their lifetimes. Georgia O'Keefe was an exception. In her late 20s, Georgia's drawings caught the attention of a New York gallery owner. Within a few years, Georgia had become a successful woman. Some of her best-known paintings are those she created when visiting and living in New Mexico. Bold colors and shapes depicted flowers, landscapes, and bones found in the area. 
A key takeaway for Rebel Girls:
Georgia broke away from tradition and helped pave the way for a whole new movement in women's art. What new ideas — an art style, an app design, a new club — could you explore?
To learn more about Georgia O'Keefe, head here. 
Dancing Inspiration: Alicia Alonso
Becoming a ballerina was Alicia Alonso's dream. She was born in Cuba in 1920 but moved to New York City at 17. There, she won a scholarship and later joined the Ballet Theatre. But Alicia was having trouble seeing. She had three major eye surgeries, and doctors warned her not to dance. Alicia's vision problems would continue for the rest of her life. When she could not dance, Alicia rehearsed in her head and with her fingers. In 1943, she made her debut as Giselle. This role launched Alicia into superstardom.  
A key takeaway for Rebel Girls:
Near blindness did not stop Alicia from performing or founding her own ballet company. How can things be made more accessible for people with disabilities? Discuss some ideas. 
To learn more about Alicia Alonso, head here. 
Climbing to Success: Junko Tabei
In 1975, Junko Tabei became the first woman to reach the peak of Mount Everest, the world's tallest mountain. By 1992, she had climbed all seven of the highest peaks. When Junko was growing up in Japan, mountaineering was not something girls did. Also, Junko was not even five feet tall. Mountaineering clubs were not welcoming to female members, so Junko founded a women's club in 1969. 
A key takeaway for Rebel Girls:
Junko did not let her small size or society's expectations stop her from climbing. She inspired more than 400 other women to climb Mount Everest. What athletic challenges would you like to try, or how can you support others in their efforts?   
 To learn more about Junko Tabei, head here. 
Painting Her Pain: Frida Kahlo
When Frida Kahlo was 18 years old, she was severely injured in a bus accident and endured over 30 surgeries during her lifetime. While she was still recovering from the accident, Frida taught herself to paint. She finished her first self-portrait in 1926. Frida went on to paint about 200 works and became a very successful artist. Her paintings are deeply personal and reflect her Mexican heritage.  
A key takeaway for Rebel Girls:
Frida empowered other artists, especially women, to explore important, personal themes such as birth and death. How do you express your culture and personal ideas?
 To learn more about Frida Kahlo, head here. 
"Unbought and Unbossed": Shirley Chrisholm
"Fighting Shirley" Chisholm earned her nickname by being a powerful voice for racial and gender equality. As a Black woman, Shirley battled discrimination throughout her life and career. In 1968, her fighting spirit won her a seat as the first Black congresswoman. Shirley supported programs to improve life for women, children, people of color, and the poor. In 1972, she became the first Black American and first woman to run for a presidential nomination. Her campaign motto was "unbought and unbossed."
A key takeaway for Rebel Girls:
Shirley paved the way for other Black women to serve in government. Consider getting involved in your school or local government. What can you do to help improve things for your community? 
 To learn more about Shirley Chisholm, head here. 
Supreme Court Inspiration: R.B.G.
In 1956, Ruth Bader Ginsberg was studying at Harvard Law School. There were over 500 students in her class, but only 9, including Ruth, were women. Ruth transferred to Columbia when her husband got a job in New York. Although she graduated at the top of her class, law firms were not interested in hiring women. Ruth worked first as a law clerk and then as a law professor. She used her sharp legal mind to argue — and win — all but one of the six cases she argued before the Supreme Court. In 1993 she became a Supreme Court Justice. She was only the second woman at the time to achieve this position. 
A key takeaway for Rebel Girls:
Ruth's dedication to causes, such as gender equality, led to great improvements. What cause are you passionate about? How can you raise awareness about it and affect change? 
 To learn more about Ruth Bader Ginsberg, head here.
Chief of the Cherokee: Wilma Mankiller
In 1969, a group took over Alcatraz Island, California, to protest the mistreatment of American Indians. This event inspired Wilma Mankiller to take action. Wilma took classes, volunteered, and became involved in American Indian rights. Wilma was born in 1945, on Cherokee reservation land in Oklahoma, but her family had moved to California in the 1950s. In 1977, she moved back to Oklahoma with her two children. Wilma worked for the Cherokee Nation, and in 1985 she became chief. For ten years, Wilma led her Nation by improving education, access to clean water, housing, and health care. 
A key takeaway for Rebel Girls:
Wilma was the first female chief of a major North American tribe. She fought racism and sexism and inspired other women to become activists, too. What actions can you take to fight for human rights? 
 To learn more about Wilma Mankiller, head here.
Learn More 
These ten women are just a few of the many successful women who have changed the world. Women also make history every day, from record-breaking athletic feats to breaking glass ceilings in business. To read or hear about more remarkable women, download the Rebel Girls App and explore the Rebel Girls books.