At Rebel Girls, we focus on empowering girls through inspirational storytelling, but this is just one way to support gender equality. Many of our parents also ask us: How do I raise feminist boys? 
Our founder Elena Favilli has written a few suggestions, guided by her experience speaking with kids all over the world. We hope you implement a few of these in your daily life and find your own ways to raise little feminists!
---
International Women's Day is a great moment to talk to your boys about gender equality and why we should all be feminists. It's important to raise feminist boys not only so that they can be strong allies for women, but also because it widens their horizons and allows them to express themselves fully and live happier lives. As activist and writer Gloria Steinem says, "I'm glad we've begun to raise our daughters more like our sons – but it will never work until we raise our sons more like our daughters." 
In this post, we'll talk about what you can do to raise a feminist son and how feminism is a win-win for everyone. For further research on this topic, we recommend the book How to Raise a Feminist Son by Sonora Jha and the article "What's the Matter with Men" by Idrees Kahloon.
SHARE THE CARE WORK
Divide all housework and childcare in your home equally with your partner. Involve boys in care work and household chores from an early age, along with girls. Equality starts at home!
EXPOSE HIM TO POWERFUL FEMALE ROLE MODELS
Talk to him about the women you admire, starting from the ones in your family. Teach him about important women in history. Read stories with a female leading character. Rebel Girls has an entire collection dedicated to this!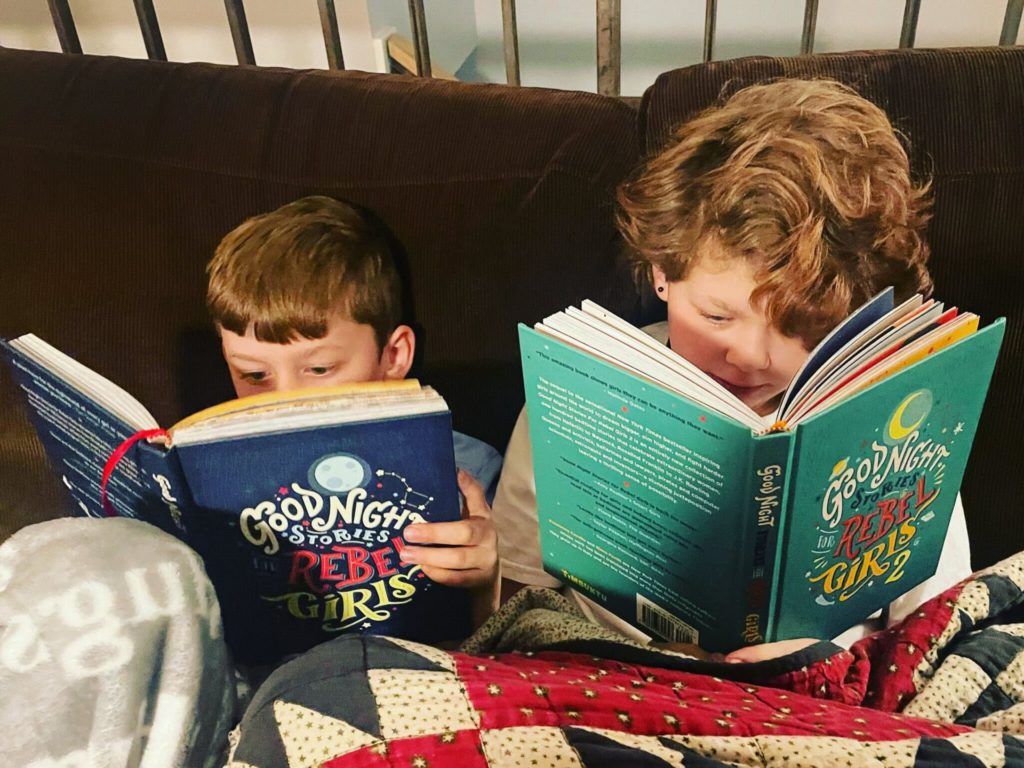 ALLOW THEM TO EXPRESS THEIR EMOTIONS
Teach your sons that it is okay to cry, to feel vulnerable, and to not always lead or win. Never use expressions like "man up," or "don't be a little girl". Teach him that he doesn't have to be tough or aggressive. Teach him to care for others and to be kind.
ENCOURAGE FRIENDSHIPS WITH GIRLS
Organize birthday parties and activities that always include girls, so that your son doesn't grow up to believe that it is okay to exclude one group of people based on their sex. Children who are encouraged to play with friends of the opposite sex learn better problem-solving and communication skills.
NO MEANS NO
Teach your son early on to always ask girls if it's okay to have physical contact with them, like hugging, kissing, or holding hands. Only yes means yes. 
INVOLVE HIM IN ACTIVITIES LED BY WOMEN
Get them used to participating in activities where women are in charge. They need to learn early on that it's okay to follow women's lead, so that when they grow up, they won't be surprised to find women in positions of power.
Research shows that men are falling behind in school and work, because as boys, they did not learn how to succeed in a world that is increasingly valuing cooperation, empathy, and care—skills which have been traditionally associated with women. This list of practical rules will help you get your sons ready for a world that doesn't require them to be just strong, but to be equal.