Introduction
While many in the Western world associate this time of year with Hanukkah or Christmas, there are many other holidays around the world. Teaching your Rebel about different cultures widens their worldview and offers them a chance to see things from a different perspective. For example, trying new foods or new traditions! Plus, who doesn't want to celebrate more holidays? 
Read on to learn more about different holidays from cultures around the world. Some of these holidays are observed by more than one group, but each one has its own unique meaning and traditions.
Learning about Holidays Around the World
December 5th
Mainly celebrated in Central and Eastern, this holiday is a dark spin on the concept of naughty or nice. Krampus is a half-human, half-goat creature who swats misbehaving children with bundles of twigs. Parents place sticks in the home year-round, to remind kids that Krampus is always watching. On the night of Krampusnacht, families gather around a bonfire and sing songs, while they wait for the creature to arrive. If he does come, it is said that he only punishes those who have been bad throughout the year. People also dress up as Krampus and chase children around. 
However, it's not all scary. Nowadays, Krampusnacht is another reason to celebrate in December—especially for adults!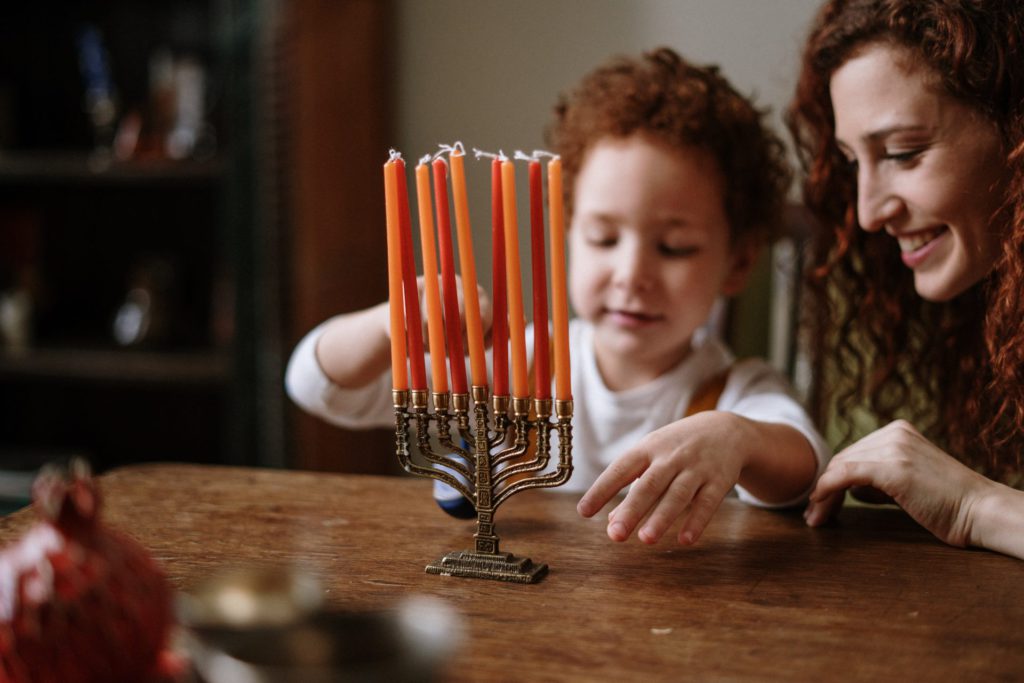 Begins on the 25th day of Kislev and ends on the second day of Tevet. These months are in the lunar Jewish calendar, but they usually fall in mid to late autumn.
Hanukkah is a Jewish holiday that celebrates the victory of the Maccabees over their religious oppressors in the second century BCE, as well as the miraculous oil that burned for eight days in their sacred temple when it should have only lasted one day. Over the course of eight nights, candles are lit on a menorah in commemoration of this miracle. Additionally, gifts are given, games are played, and plenty of food is eaten, including fried foods like latkes (potato pancakes) or sufganiyot (jelly doughnuts).
December 13
Santa Lucia's Day is a national holiday in Sweden and other Nordic countries that kicks off the Christmas season, bringing light and hope into a season with short days and long nights. A procession is led by a designated woman to portray Saint Lucia, and she is followed by a procession of people, with everyone clad in white, carrying candles, and singing. The day is also marked by treats bestowed by Lucia, including saffron buns, ginger snaps, fruit salad, and other comfort foods that are associated with this time of year.
The Winter Solstice
December 21st or 22nd (Northern Hemisphere)
The shortest day of the year, this is a significant day for countries around the world. It often symbolizes the optimism of impending spring, as the days begin to get longer and longer. This date typically falls in late December. Below you will see winter solstice celebrations from both Iran and China.
In this celebration of the winter solstice, people gather around a fire in the evening to read poetry, share stories and sing traditional songs. They eat various stews and rice, with a focus on dishes with pomegranate, considered a divine fruit that can fight against the darkness of the night.
Also known as the Lantern Festival, this is a traditional Chinese celebration that is also celebrated by many East Asian countries. Dongzhi is a time to celebrate with family and friends and to appreciate the beauty of life. One of the most important traditions is to make and give dumplings to family members and friends as a symbol of reunion and happiness. In some areas, people also light lanterns or candles inside and outside their home to decorate for the festival.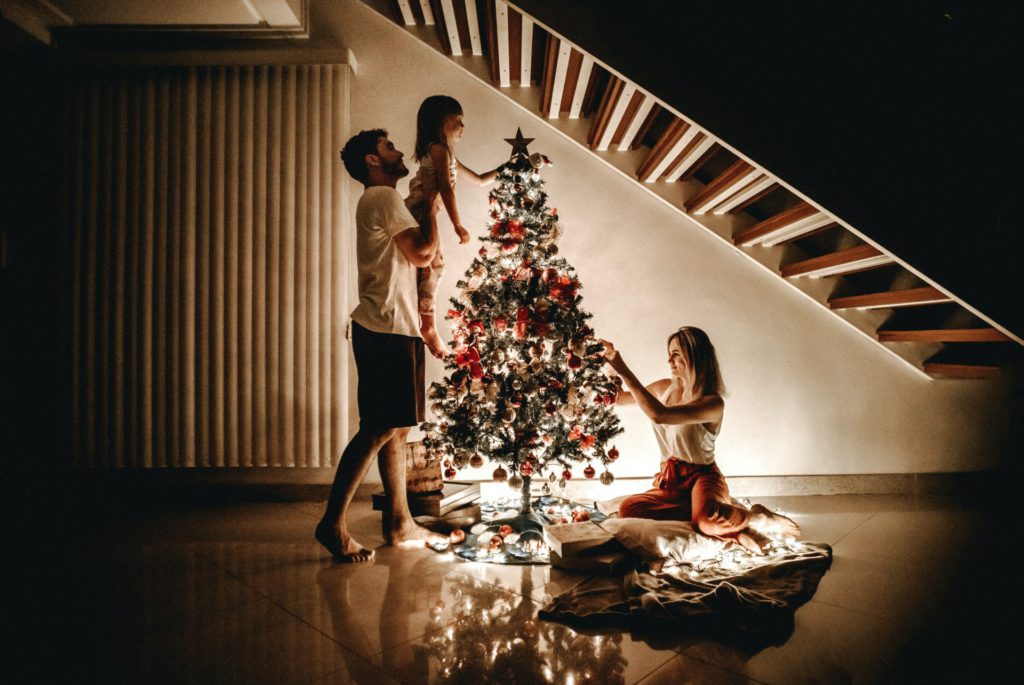 December 25
One of the biggest holidays celebrated around the world, Christmas commemorates the birth of Jesus Christ. While it is a traditionally Christian holiday, many who celebrate it do not identify as Christians, but the day still holds cultural significance.
Traditions vary by region, but a main component of the holiday is the exchange of gifts among family members and other loved ones. Christmas trees are also put up in homes and decorated with ornaments, so that Santa Claus can leave presents underneath on Christmas Eve. Other practices include eating large feasts, singing Christmas carols, and decorating the home.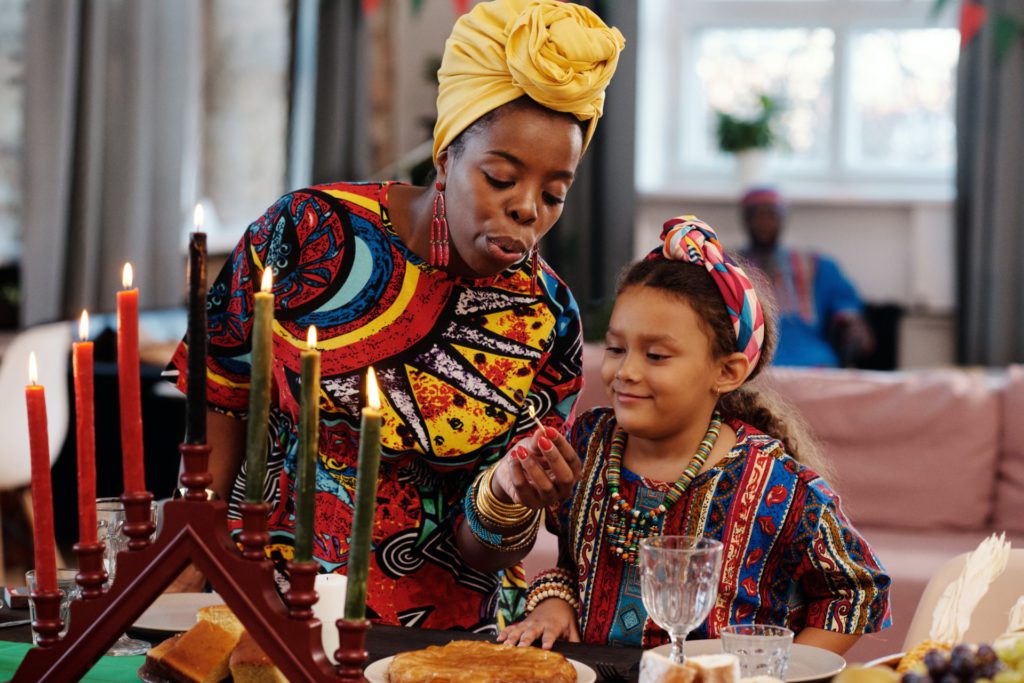 December 26th-January 1st
Kwanzaa is a week-long cultural celebration of African heritage in the United States. It was started in 1966 by Dr. Maulana Karenga, to unify and give African-Americans a sense of identity during the Civil Rights Movement and help people learn about and appreciate the culture of Black people around the world. On each night, a candle is lit (three green, three red, and one black) on a Kinara and a different principle is discussed: unity, self-determination, collective work and responsibility, cooperative economics, purpose, creativity, and faith.
December 21st-December 25th
Pancha Ganapati, also known as Vinayaka Chaturthi, is a Hindu festival celebrated five days after the new moon, in the month of Kartik. The celebration marks the birthday of Lord Ganesha, the god of wisdom and prosperity. This is a joyful festival that is celebrated with picnics, feasts, and an exchange of cards and gifts with relatives, friends, and business associates. A shrine is often displayed in the main living room of the home and usually includes a statue or image of the five-faced form of Ganesha, Lord Panchamukha. 
Begins with the first new moon that occurs between the end of January and lasts until the next full moon (or 15 days)
Lunar New Year is the beginning of the lunar calendar, celebrated over many days. It is a time for family gatherings, festive foods, and extravagant decorations. This is one of the most important holidays in East and Southeast Asia and is known under different names. In China, it is called Guo Nian; in Korea, Seollal; in Vietnam, Tết Nguyên Đán; and in Mongolia, Cagán sar. 
One tradition is to clean the house before the new year starts. This signifies a fresh start for the new year and ridding the home of past misfortune. Another is to include money in red envelopes to symbolize good fortune in the new year (although, in Korea, these envelopes are white!). 
Conclusion
Exploring holidays around the world through their traditions, foods, and festivals, and is a fun and easy way to participate in different events in your community. While different countries and cultures have their own practices and traditions during the holidays, common threads in all of these celebrations are spending time with family and loved ones, eating special foods, and taking time to appreciate what you have.
Gift-giving is another common occurrence during the holidays, although it is not the focus of many celebrations. If you are still on the quest to find a perfect gift, we put together a list of women-owned businesses you can support this season!
Check out our gift guide here.