---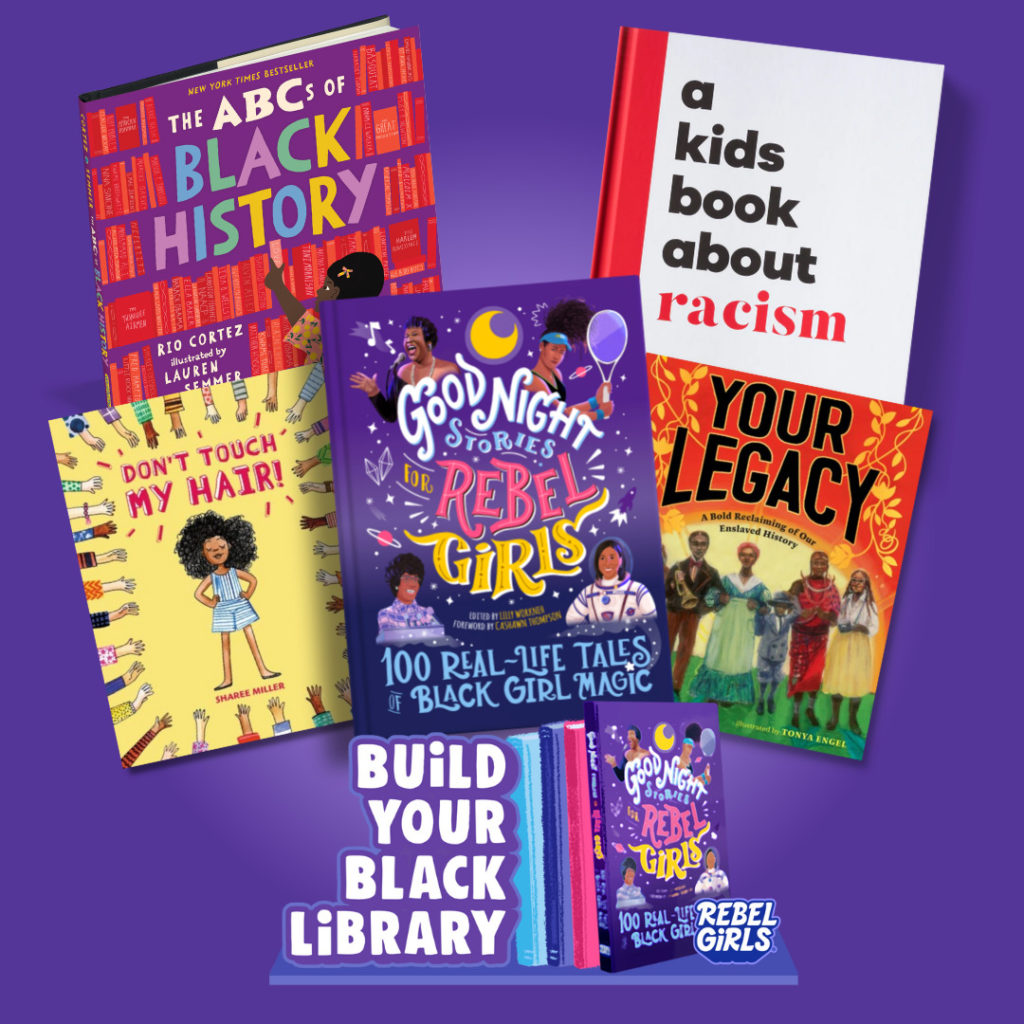 ---
Official Rules & Legal Terms
Rebel Girls "Changemaker Giveaway Challenge"
OFFICIAL RULES
NO PURCHASE OR PAYMENT OF ANY KIND NECESSARY TO ENTER OR WIN.  A PURCHASE WILL NOT INCREASE YOUR CHANCES OF WINNING. INTERNET ACCESS AND SOCIAL MEDIA ACCOUNT REQUIRED TO ENTER. Void where prohibited or restricted by law.
ALL PERSONAL INFORMATION COLLECTED FROM PARTICIPANTS WILL BE HANDLED IN ACCORDANCE WITH THE SPONSOR'S PRIVACY POLICY WHICH CAN BE ACCESSED BY VISITING https://www.rebelgirls.com/privacy-policy.
ARBITRATION NOTICE: BY ENTERING THIS PROMOTION, PROVIDED PERMITTED BY APPLICABLE LAW, YOU AGREE THAT ANY AND ALL DISPUTES BETWEEN YOU AND ANY SWEEPSTAKES ENTITY WILL BE RESOLVED BY BINDING, INDIVIDUAL ARBITRATION AND YOU WILL WAIVE YOUR RIGHT TO PARTICIPATE IN A JURY TRIAL, CLASS ACTION LAWSUIT, OR CLASS-WIDE ARBITRATION.  (SEE DISPUTES/ARBITRATION PROVISION, BELOW).
ELIGIBILITY: Rebel Girls Changemaker Challenge Giveaway (the "Promotion" or "Sweepstakes") is offered in the 50 United States and the District of Columbia ("U.S."), the United Kingdom ("UK"), Australia ("AUS") and Canada (CAN) to legal residents who are 13 or older (eligible "entrants") if allowable under the applicable federal and local laws.  Employees, officers, directors of Rebel Girls, Inc. ("Sponsor"), its parent, subsidiary, affiliated companies, agents, contractors, advertising/promotion agencies, and individuals/entities engaged or involved in the development, production, or distribution of materials for, execution or implementation of the Promotion, and the immediate family members (spouse (including domestic partners), siblings, children and parents including foster and step-relations) or those living in their same household (whether or not related) of the aforementioned parties are not eligible to win a prize. 
By entering, each entrant fully and unconditionally agrees to and accepts these Official Rules, the information provided by Promotion Entities in connection with the Promotion, the Sponsor's Privacy Policy, and the decisions of the Sponsor which are final and binding with respect to all matters pertaining to this Promotion.
PROMOTION PERIOD:  The Promotion starts on or about February 1, 2023 on or about 9:00 AM Pacific Time ("PST") and ends on February 10, 2023 at 11:59 PM PST ("Promotion Period"). All time referenced herein is Pacific Time. Entrants are solely responsible for determining the correct time zone in their respective jurisdictions; Promotion Entities disclaim all liability or responsibility relating thereto. Sponsor's server/computer is the official timekeeping device for the Promotion. 
TO ENTER:  Your privacy settings must be set to public and cannot be set to "off" or "private."
During the Promotion Period, eligible entrants enter on Instagram ("Social Media Platforms") by following: @rebelgirls, @akidsco, @ohreallyrio, @schelewilliams, and @coilyandcute; AND/OR submitting their email via this link. The potential winner will be notified via DM or email on or about February 11, 2023, and will be asked to provide their nominee's contact information, and any other information for verification and prize fulfillment purposes. Incorrect or incomplete Entries in whole or in part will not be valid.
CONDITIONS OF ENTRY: All steps must be completed and all information provided to receive respective Entry. Failure to follow all steps will void Entry. Once submitted, Entry cannot be modified, deleted or cancelled. Entries become the property of Sponsor and will not be returned.
Entries must be complete, compliant, submitted via the method and Social Media Platform communicated, and received by Sponsor within the Promotion Period. Promotion may be advertised via more than one Social Media Platform; however, entries will only be accepted on the Social Media Platforms specified herein. Sponsor has the right to verify entrants' eligibility and compliance with these Official Rules and, on the basis of its investigation, to disqualify any Entry/entrant at any time and require immediate prize return if applicable.  Entries may only be submitted by a single registered social media account user; group or commercial submissions are not permissible.  Multiple entrants are not permitted to share the same device, social media account, IP or email address. Entrants may not (whether apparent or suspected) enter through a sweepstakes club or exchange sites (or similar method, whether paid or not), with multiple or false identities, accounts, or devices, or use multiple e-mail and/or street addresses, or use any other device or artifice to enter. Engaging directly or indirectly in any (apparent or suspected) artifice, cheating, fraud, spamming, phishing, on-line sweepstakes clubs (or similar methods), exchange sites (whether or not paid), robotic, automatic, macro, programmed or like participation methods as determined in Sponsor's sole and absolute discretion, will void all such entries, and disqualify any entrant suspected of using/benefitting directly or indirectly from such methods. If an Entry, for any reason whatsoever, garners comments/responses that are unpleasant, distasteful, nasty or otherwise inappropriate for the Sponsor community or are not in the family-friendly spirit of this Promotion, Sponsor reserves the right to disqualify Entry/entrant and remove any such Entry. Promotion Entities assume no responsibility for lost, late, incomplete, inaccurate, non-compliant, illegible, delayed, destroyed, damaged, not received, undelivered, or misdirected entries (in whole or in part). Entries will not be acknowledged or returned. If, upon review, Sponsor (or its authorized representative) is unable to determine that an entrant/Entry is compliant, or reasonably suspects that he/she/it is not compliant in whole or in part, the Entry as a whole (and entrant) may be disqualified.  Proof that you uploaded an Entry does not constitute proof or evidence that it was received within the Promotion Period or eligible for this Promotion. Without limitation, any Entry deemed or suspected by Sponsor, in its absolute discretion, not to be in the spirit of this Promotion, or to be or contain content that is or may be indecent, obscene, offensive, hateful, tortious, defamatory, harmful or unlawful, or appears in any way to violate or infringe the rights of any other person/entity, or illegally defames Sponsor or party affiliated with the Promotion, or any other person/entity will be disqualified.
By submitting an Entry, Entrants represent, warrant and covenant (and agree to release and indemnify Sponsor and Promotion Entities from same) that their Entry submitted and all content therein: (i) is the original creation of the Entrant and has not been copied in whole or in part from any other work, and is the sole and exclusive property of the Entrant (or Entrant has all ownership or licensed rights thereto and in any and all content); (ii) does not contain, depict, condone, encourage or promote the use of any prohibited content as reflected hereinabove; (iii) does not violate or infringe any laws including but not limited to copyright or trademark laws, or other proprietary, publicity, privacy or any other rights of any person, entity, or venue; and (iv) owners of any depicted venues, or any individuals mentioned, featured in, or who have worked on the Entry, in whole or in part, in any manner have given Entrant their express written consent to submission to this Promotion and the use contemplated. If requested by Sponsor, Entrant shall provide evidence of the above in writing. Nothing herein shall be deemed an obligation of confidentiality.
YOUR USE OF SOCIAL MEDIA: While you may tag, forward or share with family, friends and direct known contacts, please do not engage in phishing or spamming. Apparent or suspected phishing or spamming, sending of junk communications or the use of any unauthorized method or automated system to participate, or to acquire (unauthentic) entries, Likes or Follows, etc. is prohibited, as is posting content to irrelevant or inappropriate sites to obtain Entry, and, if discovered at any time will void the applicable Entry and entrant suspected of using/benefitting from such methods in Sponsor's sole and absolute discretion. Entrants' use of the respective Social Media Platform used to facilitate Entry must comply with and be in accordance with its respective Terms of Use, Terms of Service and Privacy Policies (found on their respective home pages). This Promotion is in no way sponsored, endorsed or administered by, or associated with any Social Media Platform used to facilitate or advertise this Promotion. If you don't have a social media account, you can become a member without charge by simply following the Social Media Platform instructions and accepting the terms and conditions of use. By entering, entrants understand and agree that submitted eligible entries may be subject to public viewing, streaming (i.e. "digital transmission"), downloading (i.e. "digital distribution"), and public comments, including but not limited to being forwarded, re-grammed, and otherwise posted, for commercial and non-commercial purposes, throughout Sponsor's and unrelated third parties' digital and off-line social media, marketing and advertising properties.
YOUR USE OF A MOBILE DEVICE: Normal internet access and device usage charges imposed by your mobile plan and/or on-line service may apply to Entry via mobile device. For those entrants entering with a mobile device: Promotion may not be available via all mobile carriers; messaging and data rates apply to text or internet access via mobile devices; other charges may apply; check your mobile plan for rates/details; and consent is not a condition of purchase. 
RANDOM DRAWING/ODDS: One (1) potential winner will be selected in a random drawing conducted by Sponsor (or its authorized representative) on or within approx. three (3) business weeks after the end of the Promotion Period from among all eligible entries received during the Promotion.  Odds of winning depend on the number of eligible entries received. Potential winner will be notified by direct message via Social Media Platform account used to enter and will be asked to respond with their contact information, the contact information of their nominated "changemaker", and/or given instructions to claim their prize. If a potential winner cannot be reached using the contact information (in Sponsor's discretion) provided on their Entry or provided by entrant (as applicable), declines or refuses the prize for any reason, fails to follow the instructions on or within the time specified by Sponsor in any notification, is non-compliant, or is found to be ineligible, they will forfeit the prize and an alternate potential winner may be randomly selected in Sponsor's sole discretion, as provided herein. Once notified, potential winner will not be notified again. Promotion Entities shall have no liability for any winner notification that is intercepted, not received, not delivered, misdirected as spam/junk, not timely acted upon, or otherwise not responded to by a potential winner for any reason whatsoever, and the prize will be forfeited. After one additional unsuccessful attempt to award the prize, that prize will remain unawarded; there will not be a second-chance drawing.
Prize or prize notifications that are unawarded, unclaimed, undelivered, misdelivered (including into spam or junk folders), refused, or returned will not be re-awarded. Prize award may be subject to permission of entrant ("Prize Recipient"),  who may withhold permission in their sole and absolute discretion, without fault or responsibility of the Promotion Entities; in such event the prize will be considered forfeited and an alternate potential winner may be selected as provided hereinabove. Potential winner, potential Prize Recipient may in Sponsor's discretion be required to sign, have witnessed and return a Declaration of Eligibility, Liability and Publicity Release (where legal) within the time specified by Sponsor, or else prize will be forfeited.
PRIZE/APPROXIMATE RETAIL VALUE ("ARV"): Assuming sufficient eligible entries are received, the following prize(s) is/are available to be awarded, subject to verification of eligibility and compliance with these Rules:
Prize (5):  1 copy of: 100 Tales of Black Girl Magic, A Kids Book About Racism, The ABCs of Racism, Don't Touch My Hair, and Your Legacy.  ARV:  $100.
Limit one (1) prize per person, five winners will be chosen. Contents, supplies and features of care package selected by Sponsor in its sole and absolute discretion. Prize is awarded to the winning entrant – Prize Recipient; and entrant agrees to be responsible for arranging prize fulfillment with Sponsor.  Any difference between ARV and actual value of a prize will not be awarded.  Any and all applicable local, state, and federal taxes and all expenses not specifically stated herein are solely the responsibility of a winner, if applicable. Winner(s) is/are advised to seek independent counsel regarding tax implications of their prize winning, if applicable.  Only the description and number of prizes stated in these Official Rules is available to be won in the Promotion; in no event will Promotion Entities be responsible to award more than the stated number of prizes herein. Prize(s) awarded assuming sufficient eligible entries are received. If because of technical, typographical, mechanical or other errors or for any other reason, there are more claims for a prize than prizes offered as stated in these Official Rules, a random drawing will be held among all eligible non-suspect claimants in such category to award such prize. A gift certificate, gift card, coupon or similar item received as a prize: is for promotional purposes only; redeemable at participating issuer only; will not be replaced if lost, misplaced, damaged, destroyed or stolen; and is subject to the terms and conditions of issuer. Prize cannot be assigned, transferred, redeemed for cash, or substituted, except by Sponsor who may, at its sole discretion, substitute a prize, or any item therein with a prize or substitute item of equal or greater value. Prize, and any element thereof, including any products received as a prize, may not be sold, resold, auctioned, bartered, or placed into any other unauthorized channels of distribution. Any prize pictured in advertising, any website or Promotion materials is for illustrative purposes only and may not be the actual prize awarded. With the exception of all valid manufacturer's warranties with respect to a prize, prize is provided "AS IS" without warranty of any kind, either express or implied, including but not limited to, the implied warranties or conditions of merchantability, fitness for a particular purpose, and non-infringement. References to and any other non-Promotion Entity third party logos or trademarks in connection with this Promotion and/or prizes are registered trademarks or trademarks of their respective owner/manufacturer, which are not sponsors of, nor otherwise affiliated with this Promotion.
LIMITATIONS OF LIABILITY/RELEASE:  To the maximum extent permitted by applicable law, entrants, winner(s) and Prize Recipient(s) agree to release, indemnify, defend and hold harmless ("release") Sponsor, all other Promotion Entities, their parents, affiliates, subsidiaries and divisions, and their respective entities, and each of their officers, employees, members, managers, shareholders, successors, assigns, contractors, agents, and representatives, and any Social Media Platform used to facilitate Entry (the "Released Parties") from and against any and all threatened or actual claims, debts, demands, actions, causes of action, suits, proceedings, judgments, settlements (whether or not litagation is commenced), obligations, damages (including without limitation wrongful death, bodily or personal injury and disability), losses, accounts, reckonings, executions, liabilities, costs and expenses (including reasonable attorney's fees), property damages and any other losses, penalties or fines whatsoever of any kind or nature, whether at law or in equity, known or unknown, asserted or un-asserted, that entrant ever had, now have, or that may arise in the future ("Disputes") asserted in, arising out of or based upon participation in the Promotion, the Entry or use of the Entry (in whole or in part), any Promotion and/or prize-related activity or inability to participate in (parts thereof), the delivery, acceptance, use, mis-use of a prize or any failure with respect thereto, personal injuries, death, damage to or destruction of property, invasion of the rights of publicity or privacy, defamation or portrayal in a false light (whether intentional or unintentional), whether under a theory of contract, tort (including negligence), warranty or other theory, any act, default, omission, non-compliance, and/or a violation or breach of any agreement, representation, warranty or covenant made herein, or any other agreements by/with entrant, the Promotion Entities, and/or any other party or entity. Further, to the maximum extent permitted by applicable law, and without limiting the foregoing, entrants, winner(s) and Prize Recipient(s) covenant not to sue any Released Party or cause them to be sued regarding any matter released herein, and further covenant not to disaffirm, limit or rescind these releases. A waiver by one or more of the Promotion Entities of any term in these Official Rules does not constitute a waiver of any other provision. Any provision determined to be invalid shall be stricken to the extent of its invalidity and the remainder of these Rules shall remain in full force and effect.
In no event will the Released Parties be responsible or liable for any indirect, incidental, consequential or punitive damages arising directly or indirectly out of this Promotion, participation in Promotion and/or prize related activities, the use of the Entry in whole or in part, the use or misuse of a prize or any element thereof, or access to, and use of any participating Social Media Platform or website(s) or the downloading from and/or printing material downloaded from said site(s).  Without limiting the foregoing, this Promotion is provided "AS IS" without warranty of any kind, either express or implied, including but not limited to, the implied warranties or conditions of merchantability, fitness for a particular purpose, and non-infringement.
PUBLICITY RELEASE: By entering and/or accepting a prize, entrants, winner(s) and Prize Recipient as applicable hereby consent, where lawful, to the use (but without obligation) by Sponsor (and their affiliated companies and their respective authorized representatives) of their name, Entry (including all content posted therein), and all information, image, photographs, videotape, likeness, hometown name, biographical information, voice, as well as any statements made by winner regarding the Promotion and/or Sponsor (provided they are true) for publicity, trade, advertising and promotional purposes in all media now known or hereafter developed worldwide, including but not limited to the Internet, Sponsor's and unrelated third parties' Social Media Platforms, mobile and digital devices, and World Wide Web, without additional compensation, and without the right of review, notification or approval.
GENERAL CONDITIONS:  Neither Sponsor nor any of the Promotion Entities are responsible for lost, late, misdirected, incomplete, unintelligible, illegible, misdirected, undelivered, or stolen entries, or for lost, interrupted or unavailable satellite, network, server, devices, Internet Service Provider (ISP), website, Social Media Platform, or other connections unavailability, inaccessibility or traffic congestion, or miscommunications, or failed equipment, computer, network, telephone, satellite, cable hardware, software or lines, or technical failure, or jumbled, scrambled, delayed, or misdirected transmissions, or network, hardware or software malfunctions, failures or difficulties, incompatibility, or errors of any kind whether human, mechanical, electronic or network, or the incorrect or inaccurate capture of any information, nor for the failure to capture any such information.  Persons who are suspected of fraud, artifice, cheating, tampering with, or abusing any aspect of the Promotion or any element thereof, including but not limited to use of robotics, bots, malware, or other unauthorized devices or participation methods, as solely determined by Sponsor will be disqualified.  ANY ATTEMPT BY ANY PERSON TO DELIBERATELY DAMAGE OR UNDERMINE THE LEGITIMATE OPERATION OF THE PROMOTION MAY BE A VIOLATION OF CRIMINAL AND CIVIL LAWS, AND SHOULD SUCH AN ATTEMPT BE MADE, SPONSOR RESERVES THE RIGHT TO SEEK REMEDIES AND DAMAGES FROM ANY SUCH PERSON TO THE FULLEST EXTENT PERMITTED BY LAW, INCLUDING CRIMINAL PROSECUTION. Sponsor is not responsible for injury or damage to entrants' or to any other person's computer or (mobile) device related to or resulting from participating in this Promotion or downloading or uploading materials from or use of any Social Media Platform or website.  Should any portion of the Promotion be, in Sponsor's sole opinion, compromised by virus, worms, bugs, non-authorized human intervention, technical failures or other causes (similar or dissimilar) which, in the sole opinion of the Sponsor, corrupt or impair the Promotion or any element thereof including but not limited to its administration, security, fairness or proper play, or submission of entries or ability to notify a winner, Sponsor reserves the right at its sole discretion to suspend, modify or terminate the Promotion, or any element thereof and determine entrants and/or winner(s) from eligible entries received prior to the action taken, or as otherwise deemed fair by Sponsor in its absolute discretion.  In the event of any discrepancy, ambiguity, inconsistency, printing or any other error or miscommunication in any posts, comments, advertising, brochures, Promotion materials, announcements and/or any other information or communications by any person/entity in whatever media/medium relating to this Promotion or any element thereof, these Official Rules shall govern.
FORCE MAJEURE: Promotion Entities shall not be liable to entrants, winner(s), Prize Recipient(s) or any other person or entity for failure to execute the Promotion, or any element thereof or supply a prize, or any part thereof, by reason of any act of God, any action(s), regulation(s) order(s) or request(s) by any governmental or quasi-governmental entity (whether or not the action(s), regulation(s), order(s) or request(s) prove(s) to be invalid), equipment failure, terrorist act, cyber-attack, earthquake, war, fire, flood, explosion, unusually severe weather, hurricane, embargo, labor dispute or strike (whether legal or illegal), labor or material shortage, transportation interruption of any kind, work slow-down, civil disturbance, insurrection, riot, cancellation or delay of any event, closures, epidemic or pandemic, or any similar or dissimilar event beyond their reasonable control.
DISPUTES/ARBITRATION:  Sponsor's decisions are final and binding in all matters and disputes relating to this Promotion, including, but not limited to, interpretation and application of these Official Rules. For greater certainty, such matters and disputes are to be resolved in Sponsor's sole discretion. By entering, to the fullest extent permitted by applicable law, entrants waive all rights to jury trial, class-action lawsuit, or class-wide arbitration in connection with these Official Rules, including, without limitation, the Promotion. To the fullest extent permitted by law, for any controversy or claim arising out of or relating to these Official Rules and/or the Promotion, entrants and Sponsor submit and consent to binding, exclusive arbitration before a neutral one-person arbitrator located in Los Angeles, CA.  THESE OFFICIAL RULES AND THE INTERPRETATION OF ITS TERMS SHALL BE GOVERNED BY AND CONSTRUED IN ACCORDANCE WITH THE LAWS OF THE STATE OF CALIFORNIA WITHOUT REGARD TO CONFLICT OF LAWS DOCTRINES.
PRIVACY AND PUBLICITY:  Entrants agree that personal data captured during the registration may be processed, stored, and otherwise used for the purposes and within the context of the Promotion and as permitted by and in accordance with the Sponsor's Privacy Policy found at https://www.rebelgirls.com/privacy-policy.  By entering, you agree to be contacted by Sponsor (and its authorized representatives) with communications and reminders relating to the Promotion and you also understand your data may be used by Sponsor to verify an entrant's identity and eligibility to receive a prize. 
WINNER LIST: For the names of winner(s) of prizes over $25, contact Sponsor by sending an email to: support@rebelgirls.com, with "Rebel Girls Build Your Black Library Giveaway Winner List Request" in the subject line, for receipt within two (2) business days after the end of the Promotion Period.  Limit one request per person/household/email address.
SPONSOR:  Rebel Girls, Inc, 421 Elm Ave, Larkspur, CA 94939