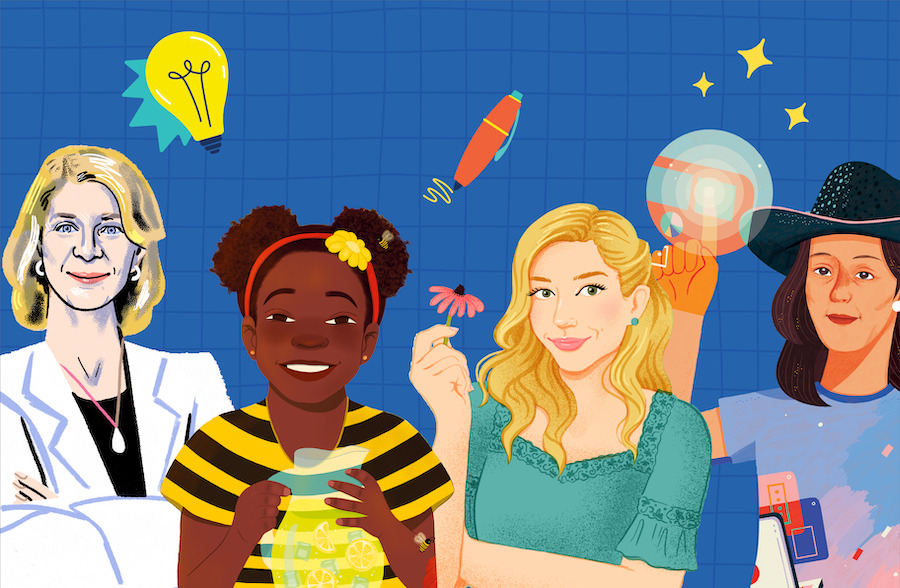 The world of business is packed with extraordinary women entrepreneurs, and they all deserve more recognition and support.
More than 50% of new companies are started by women, but women receive only 2% of venture capital funds. While this reality makes the journey to entrepreneurship more challenging for many women, it does not dim their determination to succeed. Their impact and achievements, in spite of the odds, make them great role models for aspiring entrepreneurs and enterprising kids everywhere. 
From founders to funders, here are a few extraordinary women entrepreneurs to inspire all future business leaders: 
Aileen Lee
Aileen Lee is the angel investor who coined the term "unicorn" to describe a private company valued at more than $1 billion. When she was just a teen, she started several businesses and learned to manage them successfully. Now, Aileen leads one of the first female-led venture capital firms in the world.  
Mar Hershenson
Mar Hershenson is a Spanish electrical engineer-turned-businesswoman who has founded three startups, earned 14 patents, and is now a successful venture capitalist in California. She is also an advisor to budding entrepreneurs and helps them grow their companies by teaching them how to plan properly and have confidence.
Jennifer Doudna
Jennifer Doudna is a pioneering chemist who is known for co-creating a gene-editing tool called CRISPR. CRISPR is a technology that can alter DNA to remove genes that cause cancer and other diseases. Jennifer earned a Nobel Prize for her invention and launched several companies, making her an extraordinary biochemist and businesswoman.   
Ursula Burns 
Ursula Burns is the former CEO of Xerox, a large tech company known for creating photocopy machines and printers. She started her career as an intern at the company and went on to work at Xerox for 37 years until she became the first Black woman CEO of a Fortune 500 company. 
Whitney Wolfe Herd
Whitney Wolfe Herd is the founder and CEO of Bumble, a dating site designed to help prevent harassment and where women make the first move. Bumble has become hugely successful, and Whitney is now the world's current youngest, female, self-made billionaire. She has also started a fund to invest in other female founders, especially women of color.
---
These are just a handful of inspiring women entrepreneurs whose stories can empower the next generation of business leaders. To discover more, our newest book, Rebel Girls Awesome Entrepreneurs, spotlights 25 women building businesses. Created to inspire kids everywhere, the book showcases influential CEOs, entrepreneurs, founders, and investors who have used their creativity and ingenuity to develop clever ideas, launch new products, build businesses, disrupt industries, support others, and invest in the future. 
The stories are accompanied by full-page illustrations created by female and nonbinary artists from around the world. These stunning portraits bring the stories to life and showcase the women in all their glory. This book also includes engaging activities that allow young readers to write their own story, draw their own portrait, and explore their own business ideas. 
Sharing examples with kids of ambitious and high-achieving women entrepreneurs not only inspires big dreams but also instills the confidence to pursue them. Plus, kids should know that the path to entrepreneurship can look different for everyone. 
Kidpreneur Mikaila Ulmer agrees, saying, "There's no cookie-cutter entrepreneur." Mikaila started her lemonade empire at four years old to save the honeybees, and she is now selling bottles in 1,500 stores nationwide. 
It's important to celebrate girls like Mikaila and amplify their stories. In the last 20 years, the number of women entrepreneurs has increased by 114%. However, despite this rapidly growing pool, only 19% of children's books feature women with a job or career ambition. 
This lack of representation in kids' books can profoundly impact how young girls see themselves and the possibilities of just how much they can achieve. 
Rebel Girls is here to help change that. 
Get your copy of Rebel Girls Awesome Entrepreneurs today!