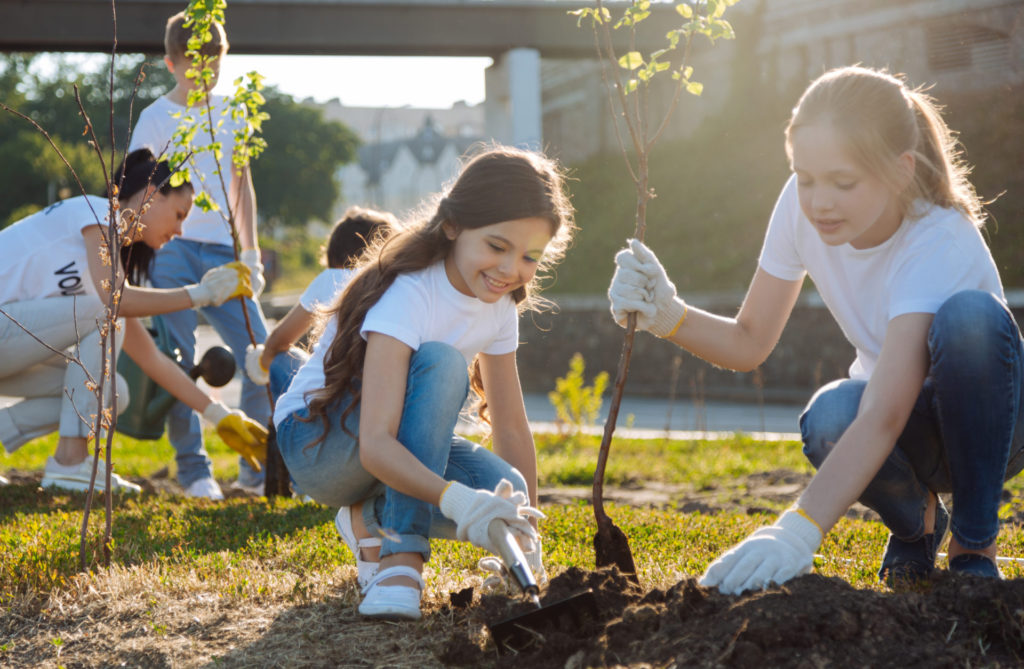 There is no such thing as "too small" when it comes to taking the first step to creating big change. With all the issues in the world today, it's easy for your Rebel to feel like there's no way they can possibly help. But there are many ways that kids can enact change with their parents' support!
Young Changemakers
When we look at young Changemakers who are making a difference today, they often started with just one small action. From writing letters to starting a blog, these young Rebels are examples of how even the smallest first step led to bigger changes.

Momoko was a college student in Japan when she heard sexist remarks from Yoshiro Mori, the president of the Organizing Committee for the 2020 Tokyo Olympics. Commenting on women in the Committee, he said  "when you increase the number of female executive members, if their speaking time isn't restricted to a certain extent, they have difficulty finishing, which is annoying." 
Momoko thought this was a harmful stereotype of women and began her #DontBeSilent petition online, calling for action against the president. Using only her Twitter account, she caused a media stir that garnered hundreds of thousands of signatures. In less than two weeks, he resigned.

Shira was diagnosed with a rare neuromuscular illness in middle school, and would often use a wheelchair. One of her classmates called her a "sick chick," which hurt her feelings. She began blogging under the name, Sick Chick, where she wrote about her experiences and challenges, in hopes of educating others. 
Her blog grew to a large audience of people all over the world who found comfort in her writing. When a non-profit approached her and offered a speaking engagement, she realized that she was changing the world by being open about her life and creating a community along the way. Since then, she's spoken at many conferences and become an advocate for her fellow sick chicks.

You might know Amariyanna (Mari) as Little Miss Flint from Flint, Michigan, who fought for her city to have access to clean drinking water. She wrote to President Barack Obama to explain the situation and ask for help. Mari knew the President received thousands of letters every day, but hoped he would read hers. 
Not only did President Obama read her letter, but he was so touched that he traveled to Flint to meet her. He said, "I would have been happy to see Mari in Washington. But when something like this happens, a young girl shouldn't have to go to Washington to be heard. I thought her President should come to Flint to meet with her."
He allocated funds and resources to help Flint, but to Mari, change wasn't happening fast enough. Flint needed drinking water now. Mari turned toward crowdfunding to buy water bottles for everyone. But she quickly realized that while she was doing something good, the amount of plastic being wasted was not sustainable. She pivoted to a partnership with ​​Hydroviv, a filtration system that goes underneath a sink and only needs to be replaced annually.
Mari, Shira, and Momoko's stories all point to small changes with big impacts, from starting a Twitter campaign, to blogging, to writing to government representatives. The ripple effect from these actions can have a great impact. 
Here are a few ways for your Rebel to enact big change in their community!
7 ways to make big changes in your community
Donate
Donating is an easy approach to giving back to the community. Kids can search through their closets and select clothing they haven't worn in a while, or choose toys they don't play with anymore. Although these items may no longer be of use to them, they may be valuable to someone else. Find your local Goodwill, Habitat for Humanity, or Out of the Closet locations to drop off these items!
Similarly, donating books is a wonderful way to spread their love of reading. Ask your kids to look through their books and select any they don't read anymore. Deliver those books to a nearby library, hospital, or daycare. Alternatively, take your child to a bookstore and ask them to pick out their favorite book to donate. Find your local Little Free Library here or explore hospitals and libraries in your area!
You can also help your child investigate your pantry. Are there any canned or dry unopened goods? Consider donating them to your local food bank. You could also put a food donation box in your house and every time you go to the grocery store, buy an extra non-perishable food item to put in the box. Soon you'll have an abundance of food to help those in need.
Give Your Time to Others
Your kids can not only donate their items, but they can also donate their time to someone in need. If they are old enough, you can encourage helping neighbors who might require assistance, whether it's helping to rake up leaves or bringing in garbage bins from the curb. Kids can also help their peers with their studies or work on a project together. Suggest they ask others what they might need and help them figure out a plan of action.
Clean the community
It is crucial to connect with and care for our public spaces from an early age. Take your kids to their neighborhood park and observe trees, birds, and other wildlife, while educating kids about littering. Then organize a cleanup team and start picking up trash at the park. You'll be astonished at how much litter there is! Or make it a routine to teach your kids to pick up garbage whenever they go to the playground. All you need is a garbage bag and some gloves!
Upcycle
Teaching children to live a more sustainable life is integral to protecting the environment. Start an upcycling project where kids can make something unique and new using found materials, including plastic bottles, cups, and paper products. They can even upcycle their own clothes to make new ones! This will teach them the benefits of reusing items, rather than tossing them out after one use.
Need an idea to help your child get started? Here's a way to make a rug from old t-shirts (no sewing required) and here's how to make old magazines into beads! Do this project along with your child, or have them collaborate with other kids.
Raise money for charity
Kids can run a lemonade stand, host a bake sale, or a yard sale, and donate all their earnings to a local charity. Help your kids choose a cause that is particularly meaningful to them. This is a fantastic way for your kid to learn about local issues they care about and support them.
Make cards
Kids can make homemade cards, including thank-you notes for local service members or get-well wishes for hospital patients. Children will learn that kind words can often have a great impact.
Be kind to others
One of the simplest ways to bring change in your community is to just be kind. Encourage your Rebel to say at least one nice thing to someone each day. Ask them to look around and see if there are kids who might like to be invited to hang out with them. If a person in their community is feeling down, maybe they can craft a card to cheer them up.
Even a few kind words or a simple act can significantly improve someone's day and that can lead to them paying it forward! We are all in this world together, and love and kindness will improve quality of life for everyone.
Conclusion
Making small changes can look different for everyone. We've mostly focused on activism in the community, but little adjustments at home can also have big impacts, like turning off the lights to reduce energy waste, taking shorter showers to conserve water, and recycling to cut down on landfill space! 
For more stories of young women who made great change, check out the newest book in our Good Night Stories series— Goodnight Stories of Rebel Girls: 100 Inspiring Young Changemakers. Readers will celebrate well-known women including Greta Thunberg, Bethany Hamilton, Bindi Irwin, Zendaya, and the Linda Lindas, and also learn about up-and-coming powerhouses like inventor Vinisha Umashankar, fashion designer Marine Serre, stuntwoman Sadiqua Bynum, filmmaker Taegen Yardley, poet Alexandra Huynh, and environmental activist Helena Gualinga.
We'd love to hear how you and your Rebel make change in your community. Tag us in your social channels so that we can see all the good you are doing to help change the world. Remember, no act is too small! 
Dream Bigger, Aim Higher, and Stay Rebel!