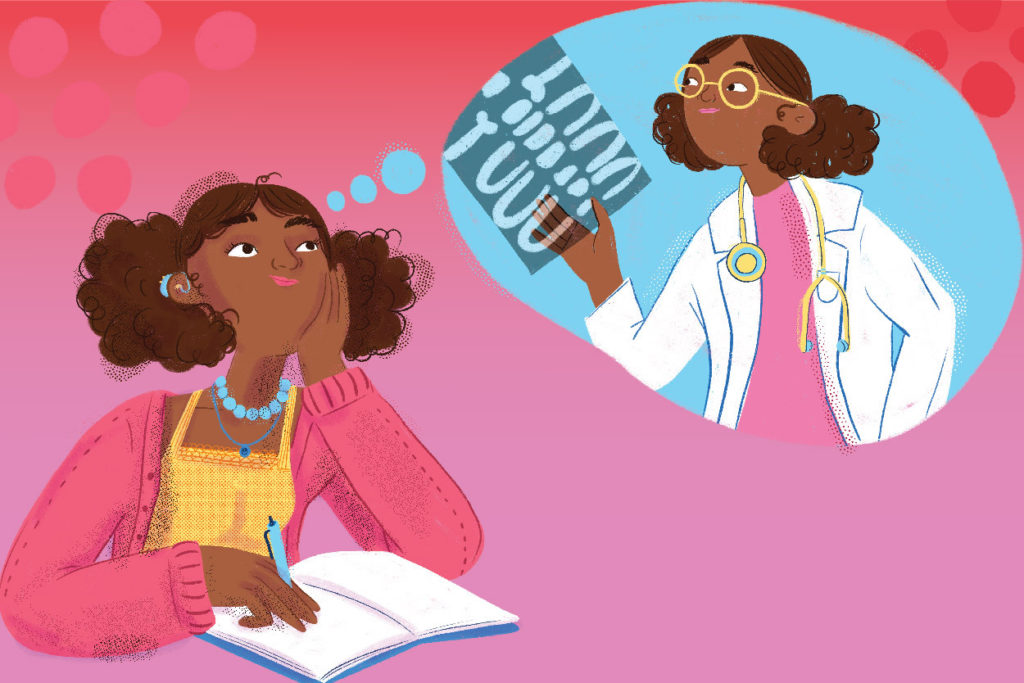 By Manjari Doxey
It's thrilling to watch our Rebels grow up and discover their interests, talents, and individual identities. While her world is just starting to open up and the possibilities may feel endless, it's our responsibility to help guide your rebel toward what makes them, uniquely them. This will not only help instill confidence now—it will set her up for a more successful future.
Here are some ways to inspire our Rebels to dream big—and what we can do to support those dreams along the way.
---
Create a vision board
Whether this be a collage, a Pinterest board, or just a corkboard with tacs—giving her the creative space to find things that she's drawn to helps to hone in on what inspires her.
Maybe she already knows she loves fashion and her board will be filled with patterns and designs. Or maybe travel intrigues her and she fills her board with photographs of far-flung places around the world. 
Guide your daughter to use whatever photos, illustrations, quotes, etc., that speak to her—there are no rules here!
Download a vision board here!
---
Help her discover her talents by asking the right questions
Uncovering what she loves about a class or a project she's working on through inquisitive questions could help you both understand what paths she might like to explore in the future.
Try asking questions such as:

If you could have one job for a day, what would it be?

If you could only keep one class at school, which would you choose?
Similarly, if she's struggling in an area, finding out what she doesn't like can be useful too. For example, maybe she doesn't enjoy reading because she's more of a hands-on learner. While you can offer supportive solutions in this scenario such as reading schoolwork together, this could give a lot of insight into other areas she may thrive in.
Hands-on learners may enjoy learning graphic design or cooking, for example. Understanding weaknesses can give great insight into strengths.
---
Be candid about how you found your own career path (and the struggles you faced)
Our kids may already be more stressed out about their own futures than we realize. Some kids may have a very clear definition of what they want to do such as helping animals, while others might be interested in a million different things.
Your Rebel has plenty of time to figure out where they want their life to go. Discussing with them how you, another family member, or a friend found a fulfilling career will give them real-life insight when it comes to considering their future.
---
Encourage risk-taking
Now that you're uncovering her talents, interests, or just the areas she is drawn to learning more about—encourage her to pursue these ambitions further by trying new things.
For example, are there after-school clubs or programs she may not know about that have a focus on her interest? Encourage her to audition, to try out, or to enroll in extracurricular activities that excite her. For instance, if your Rebel is into performing and storytelling, she might like to partake in a school play.  Nothing at school? Look into additional programming elsewhere. If she loves animals, maybe find an opportunity to volunteer at a local animal shelter.
Above all,  give your Rebel the confidence that she is capable of trying something new—and provide the resources to get involved.
---
Be their reassuring bestie through failures
While they're trying to find the shoe that fits, there may be endless ones that just don't. Failures are an inevitable part of the process.
If she didn't enjoy something as much as she thought she would, or she didn't make the team after trying out—be an encouraging, listening ear for your Rebel. Tell her about a time you failed in some way and what you learned from it. This will remind her that failure eventually leads to growth! 

---
For more tips and tricks about supporting your Rebel's big dreams, check out our book, Growing Up Powerful, a bold, big-hearted guide to girlhood.