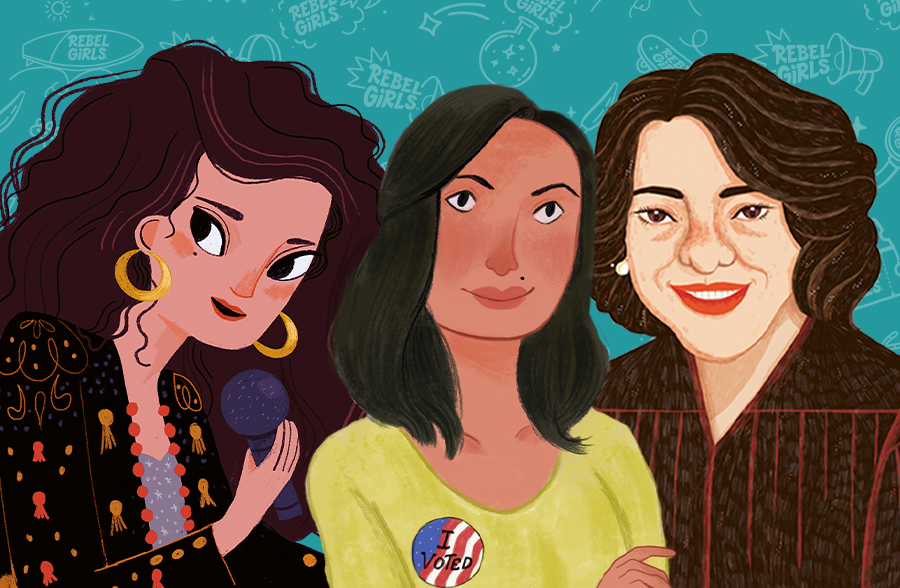 We celebrate Hispanic Heritage Month every year from September 15th to October 15th. During this time, we recognize and highlight the achievements and contributions of Hispanic women who inspire, support, and uplift others. Celebrating their lives and legacies inspires the next generation of changemakers.
Hispanic Heritage Month first began in 1968 as only a week-long commemoration under President Lyndon B. Johnson. President Johnson grew up in a border town in Texas, so he was keenly aware of the discrimination that Hispanic and Latinx people faced everyday (PBS).
President Ronald Reagan expanded the celebration to a 30-day period in 1988, and it was enacted into law on August 17, 1988. This expansion was supported by many in the House of Representatives, including Congressman Esteban Eduard Torres who said, "we want the American people to learn of our heritage. We want the public to know that we share a legacy with the rest of the country, a legacy that includes artists, writers, Olympic champions, and leaders in business, government, cinema, and science." (History.House.Gov)
The theme for 2022 is "Unidos: Inclusivity for a Stronger Nation."(HispanicHeritageMonth.gov)
As part of our celebration of Hispanic Heritage Month, we're sharing the stories of Hispanic women from around the world who changed their communities. Each Hispanic woman has an incredible story that will inspire girls everywhere to find their own confidence, strength, and power.
Stories of Inspirational HIspanic Women
Born in Bogota, Colombia, Maria became a US Citizen at 9 years old. Growing up was difficult as her mom worked long hours and her father was ill. She went to the University of California Davis and then received a Master's degree from Harvard. She started her career in politics as a legislative aide to Democratic congressman Vic Fazio. She saw firsthand how Latinx voters were disproportionately affected by the technology gap.
She began working with Voto Latino in 2004. They partnered with the US Census Bureau to increase participation in the upcoming census. She helped launch the "Be Counted" campaign which included a bilingual mobile phone app that enabled Latinx communities to complete the census on their phones. Being counted in the census is important as it helps the federal government distribute funds and assistance to local governments.
Under Maria's leadership, Voto Latino registered over half a million new Latinx voters.
Isabella grew up dreaming about becoming a fashion designer. She made dresses for her dolls and read fashion magazines. Unfortunately, when she applied to fashion schools, she was rejected because she has Down syndrome. Teachers didn't think she could keep up with the other students. But Isabella believed in herself and kept going. She started making her own clothes that had Guatemalan flair and catered to the distinct physical needs of people with Down Syndrome.
She was eventually invited to showcase her clothing at a costume museum in Guatemala. From there, she's gone on to create her own label (Down to Xjabelle) for people with Down syndrome. She was also the first person with Down syndrome to showcase designs at London Fashion Week.
Growing up with an accountant father, Victoria noticed math and loved it. She used her passion for numbers to help her country when she learned that cows were becoming ill on farms across the nation. This was a huge problem for food production. She invented the Chipsafer, which is a collar that's connected to an app. Using Chipsafer, farmers can track the behavior of their cows and determine if they are becoming sick. This makes it possible to isolate sick cows from healthy cows. She won a competition for young inventors and now works on her invention full-time.
Eréndira grew up in Mexico going to fandangos with her mom. She was enchanted by music and when she was six years old, she discovered the instrument she was born to play: the harp. She began to study harp and dance in school. Eréndira was bullied for playing the harp as other kids didn't see it as "cool" or interesting. But she didn't care. She loved playing music regardless of what people thought of her. Her teacher encouraged her to enter music competitions. When she won first place in one of them, she got the opportunity to perform in Carnegie Hall in New York City!
When she was growing up in Venezuela, Deyna was told that only boys could play soccer. But she couldn't help falling in love with the sport. She discovered her passion for soccer on the sidelines at her brother's games. One day, the ball came her way as it flew out of bounds. Deyna used the opportunity to show off her skills. She flipped the ball up, balancing it on her foot. She kicked it in the air and bounced it off her head. Her plan worked! The coach noticed her, and encouraged her parents to sign her up for soccer.
Deyna pursued soccer relentlessly and played soccer on the Florida State Team. Then, in 2017, she was a finalist for FIFA's best women's player in the world award, despite not playing on a national team nor being a professional player.
Now 23, Deyna is a professional soccer player who plays as a forward for Manchester City and the Venezuelan women's national team. She's also played in the Youth Olympics and the World Cup.
Gloria grew up in war-torn Cuba where a revolution was happening. Her parents took her and her siblings to Florida, where Gloria then grew up and adjusted to American life. Gloria spent most of her teenage years taking care of her sick father who had returned from the Vietnam war. Music was her escape. She's released over 20 albums, won 26 Grammys, and produced a musical. She's also an entrepreneur and owner of several restaurants, hotels, a football team, a recording studio, and a publishing company!
Lucia was born with partial paralysis in her spine. She looked for ways to be active, and found wheelchair racing when she was eight at a summer camp in Buenos Aires, Argentina. She trained hard and began to compete in para athlete races all over the world. She won a silver medal in Switzerland at the World Para World Championships, where she also carried the Argentinian flag. She is now training to compete in the Paralympics.
Growing up in Medellin, Colombia, Mariana turned toward cycling to distract herself from her sometimes dangerous city. Her parents were thrilled as they were also athletes growing up. Mariana began competing in BMX races. She was often one of the only girls competing. At 9 years old, in an international competition, Mariana doubted that she'd win. To her surprise, she beat out all the boys and finished on top. Since then, Mariana has won gold medals in the London 2012 Olympics and the Rio 2016 Olympics, and she won silver in Tokyo in 2020. She's the first Colombian to win two Olympic gold medals.

Maritza is a Chilean astronomer who discovered exoplanets, which are planets outside the solar system. She was the first to prove their existence. She led a team of astronomers at Queen Mary University of London, and she was a postdoctoral researcher, a highly esteemed position for someone in their 20s. Maritza was nominated for the Natida Chileno del Año 2018 award, an initiative to recognize Chileans who achieve great things in their fields.
Sonia was born in New York City to Puerto Rican immigrants. Her father did not speak English and worked as a tool maker. Her mom was a telephone operator and then a nurse. They worked long hours, so Sonia mostly spent time with her grandmother. At age 7, she was diagnosed with Type 1 Diabetes and began insulin injections.
But Diabetes didn't stop Sonia from having big career dreams. She initially wanted to be a detective since she loved the Nancy Drew books, but after watching Perry Mason at age ten, she knew she wanted to be an attorney. She attended Princeton University and then went on to Yale for Law School.
She began her career as an assistant district attorney under New York County District Attorney Robert Morgenthau in 1979. At a time when New York crime rates were rising, Sonia had to manage an intense workload. She became a judge and worked her way up the courts. In 1997, President Bill Clinton nominated her to a federal court. In 2009, President Barack Obama nominated her to the Supreme Court where she became the first Hispanic Supreme Court justice. She still serves today.
Valentina and her mother Arianna love to travel around their beloved country of Venezuela. Together, they host a TV show called Two on a Trip. They document the beauty of Venezuela, visiting lush jungles and vibrant cities. Valentina and Arianna also shed light on the issues in their country like lack of electricity and food shortages. They encourage their viewers to explore their home country and support each other.
Xóchitl noticed that in her hometown of Chiapas, Mexico, people were chopping down lots of trees. They needed to burn the wood to heat their water. But Xóchitl thought there must be a better way. In an effort to avoid chopping down the beautiful trees, she invented a new heater that cost only $30. It was made of discarded plastic, old wood, water bottles, hose, nylon, and glass doors. Using trash, she'd made a heater! She won an award for women scientists that had never before been given to a young girl.
IN closing
All of these Hispanic women have changed the world in their own special way. Whether it was building something important for the community, or creating beautiful art and music, each woman took charge of their destiny. They prove that with hard work and determination, big dreams can come true.
Want more inspiration? The Rebel Girls' app now has Spanish language episodes, to celebrate Hispanic Heritage month, and to celebrate Hispanic women all year round.