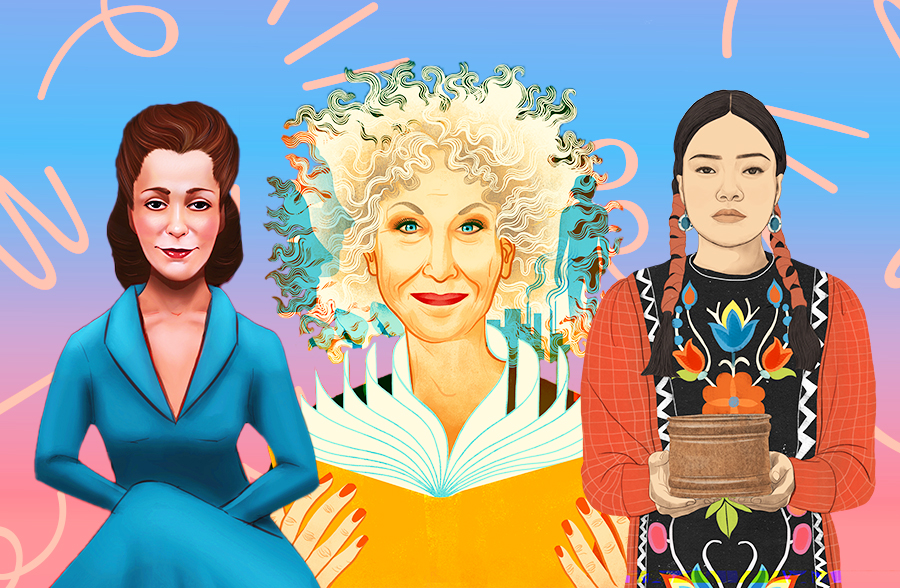 Amazing women have come from every corner of Canada, including incredible athletes, genius innovators, and groundbreaking artists—and it's important we celebrate their stories so kids everywhere can be inspired by them. 
Here are 10 Canadian women across a variety of fields to share with your little one:
Sara Seager
Sara Seager Sara Seager was always curious. The thing that fascinated her most was outer space. As a girl, she spent hours looking through the telescope in her room and imagining what more was out there beyond the moon, stars, and planets she could see. It's no surprise that Sara grew up to become one of the top astrophysicists in the world. She's known for her work on exoplanets—planets outside of our solar system that orbit stars in faraway galaxies. Sara studies their atmospheres and looks for signs of life. 
Angela James
When Angela James was growing up in Toronto, there weren't a lot of opportunities for girls to play ice hockey. But Angela was determined. She loved the feeling of her skates gliding on the ice and the hard thwack her stick made when it connected to the puck. She joined a boy's team and quickly became the strongest player on the squad. Unfortunately, it wasn't long before she was kicked off the team—some people didn't like that a girl was the best player. Angela was undeterred. She finally found a team for girls, and though she had to travel hours to get to practice, she continued to train with them. Angela's hard work paid off. When she was 16, she was invited to join the Central Ontario Women's Hockey League. She played for 20 years and broke numerous records. Angela made history as the first Black woman and the first openly gay player to be inducted into the Hockey Hall of Fame. 
Viola Desmond
Viola Desmond always had an entrepreneurial spirit, so when she noticed that the hair products in her hometown of Nova Scotia were primarily for white women, she decided she wanted to open a salon for Black women. She traveled all over taking courses at beauty schools that would accept her as a Black woman. She even trained with Madam C.J. Walker! She returned home to Nova Scotia and opened her salon. But that wasn't all. Viola helped her community by also opening up a school to teach Black women business skills and help them find jobs. 
Kayuula and Shina Novalinga
Kayuula Novalinga and her daughter Shina Novalinga are from Nunavik, Canada. In the Inuit language, Nunavik translates to "great land" and with its snow-capped mountains, lush forests, and polar bears, it certainly lives up to its name! Kayuula and Shina are part of the Inuit community. They feel strongly about preserving their native culture. One way they do that is through a special kind of singing called throat singing. Throat singing is very distinctive. Kayuula and Shina stand face to face and one of them starts by making a low breathy sound. Then, the other tries to match that sound. They go back and forth, changing up the pitch and volume. Part of the reason throat singing is so sacred is because it was once outlawed by colonists in the 1900s. People like Kayuula and Shina and helping restore the traditions that make their culture special. 
Autumn Peltier
Autumn Peltier grew up knowing that water is sacred. As part of the Ojibwe/Odawa community, she learned to perform water ceremonies from a young age. So when Autumn heard that the water in her region was being contaminated by underground pipelines, she decided to take action. She was chosen to present the Canadian prime minister with a special gift at the annual gathering for the First Nations. She decided to use this opportunity to make her voice heard. She told the prime minister about the water pollution and he promised to help. Today, Autumn travels around the world, imploring leaders to respect and protect our bodies of water. 
Margaret Atwood
As a child, Margaret Atwood lived deep in the woods of Ottawa. There wasn't much to do, so she relied on her imagination. She dreamed up fantastical words and wrote stories about the characters and settings that she came up with. Margaret was often inspired by wildlife. Her dad was a biologist who studied forest insects. Margaret had a pet butterfly and a pet praying mantis. She grew up and became a successful writer. One of her most celebrated works is a series about a future society and its relationship with nature. 
Puisand Lai
When Puisand Lai was diagnosed with a rare nerve condition that meant she had to start using a wheelchair, she could have given up sports all together. But that's not what she did. Puisand always dreamed of becoming an athlete. So she joined a wheelchair tennis program and realized she had a real knack for it. One sport wasn't enough for Puisand, though. Next, she tried wheelchair basketball. She loved zooming across the court and seeing the ball swish through the net. She was soon recruited to join Team Ontario. She won gold at the 2017 Ontario Winter Games and competed in the 2018 Basketball World Championship as part of the Canadian National Team. In 2021, Puisand's biggest dream came true—she competed in the Paralympic games in Tokyo! 
Angelique Ahlstrom
As a Canadian, the wilderness holds a special place in Angelique Ahlstrom's heart. So when Angelique learned that logging was contributing to deforestation in the woods she loved, she teamed up with some college classmates to take action. Together, they formed a company called Flash Forest. Flash Forest uses drones to spread seeds far and wide. The drones can plant tens of thousands of trees a day. But Angelique has her sights set even higher—she thinks they can plant a billion! 
Riya Karumanchi
It's not often that a science fair project becomes a bonafide business, but for Riya Karumanchi, that's exactly what happened. Her project was inspired by her friend's visually impaired grandmother. She wanted to create an advanced cane to help her and other blind people. Riya got to work on a prototype for the SmartCane. The SmartCane would use a sensor that allows visually-impaired people to "see" objects above the knee. Her prototype won first prize and Riya went on to make the real thing! 
Rosalie Abella
Originally from Germany, Rosalie Abella has called Canada home since she was a little girl. As the daughter of a Jewish couple who had survived the Holocaust, Rosalie knew firsthand what it was like to go through hardship. She was determined to be a lawyer to help people fight for their rights. Just four years after she became a lawyer, Rosalie was asked to serve as a judge in Canada's family court. Rosalie built her career around treating all people fairly. In 2004, she became the first Jewish woman to serve on Canada's Supreme Court. 
These are just some of the incredible women who hail from Canada. To learn more about others, check out the Good Night Stories series from Rebel Girls, and download the Rebel Girls App.